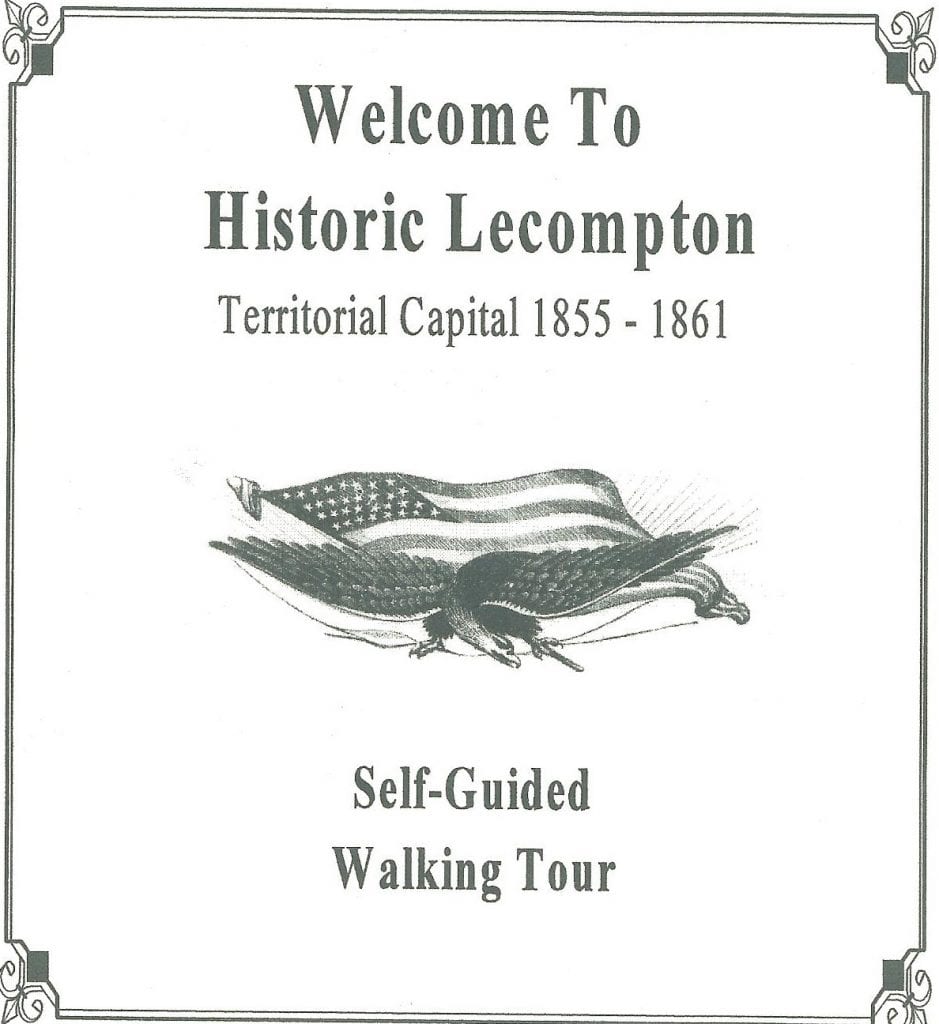 One of the oldest wood-frame buildings in Kansas. Designated a National Historic Landmark in 1975. Dedicated as a museum in 1995.

4th Graders' Video of Lecompton Constitution Hall
2) Lecompton City Jail (1892) and Sheriff Jones' Tombstone
Used into the 1920's as a jail. It was relocated rock by rock in 2012 from private property located across the alley (west) of Constitution and re-constructed on Lecompton Historical Society property next door (north) of Constitution Hall .
 
Just east of the jail lies a tombstone with no body.  Original tombstone of Douglas County Sheriff Samuel J. Jones.  The tombstone was originally in Las Cruces, NM
4th Graders' Video of City Jail and Sheriff Jones
3) Land Sales Offices and Veterans' Monument
Many real estate offices in the 1850s surrounded Constitution Hall. This 1860 etching is the earliest known image of Constitution Hall. These offices were operated by eastern real estate companies that offered land and loans to new Kansas settlers.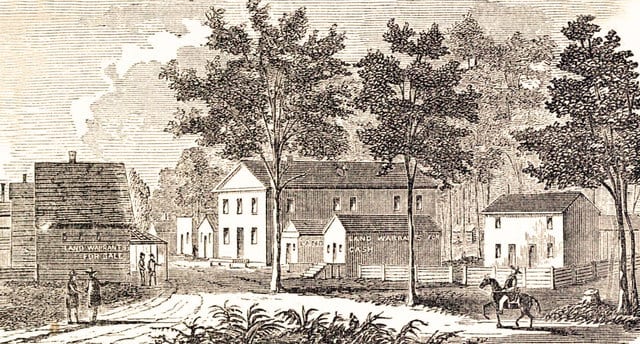 Our Veteran's Monument commemorates U.S. Military Veterans from Lecompton, Stull, Big Springs, and the Kanwaka Area.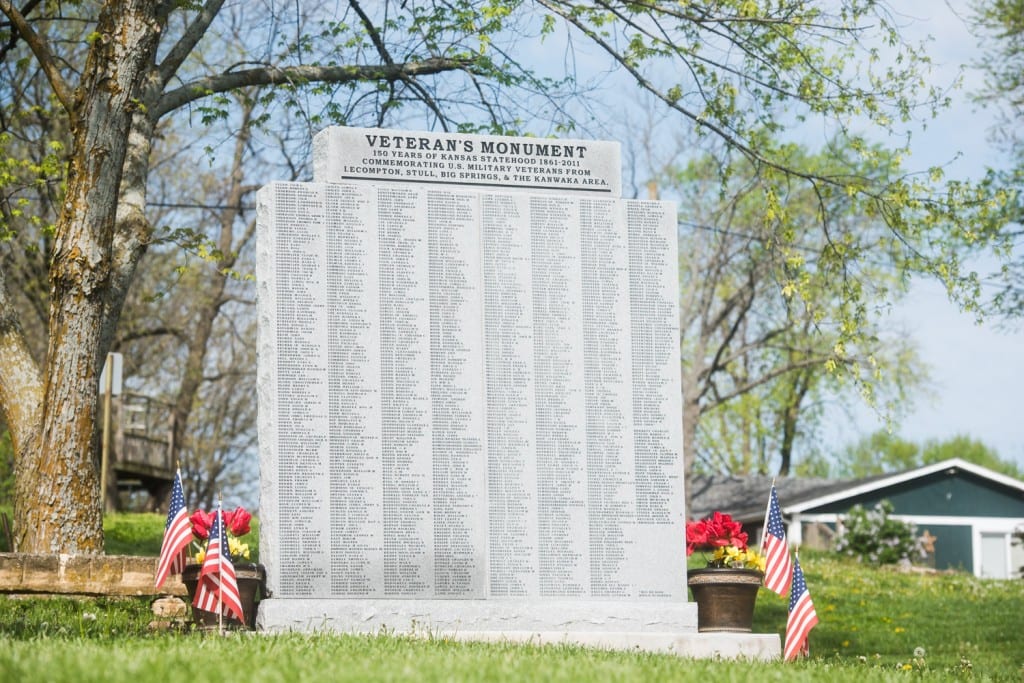 4) Council Building
Built the same year as Constitution Hall. Constructed by William Nace, private secretary to Acting Governor Daniel Woodson. Territorial council or senate convened here in 1857. Became United States land office in 1860. Used later as a general store, drug store, and Lecompton city and council offices. It was destroyed by fire in 1932.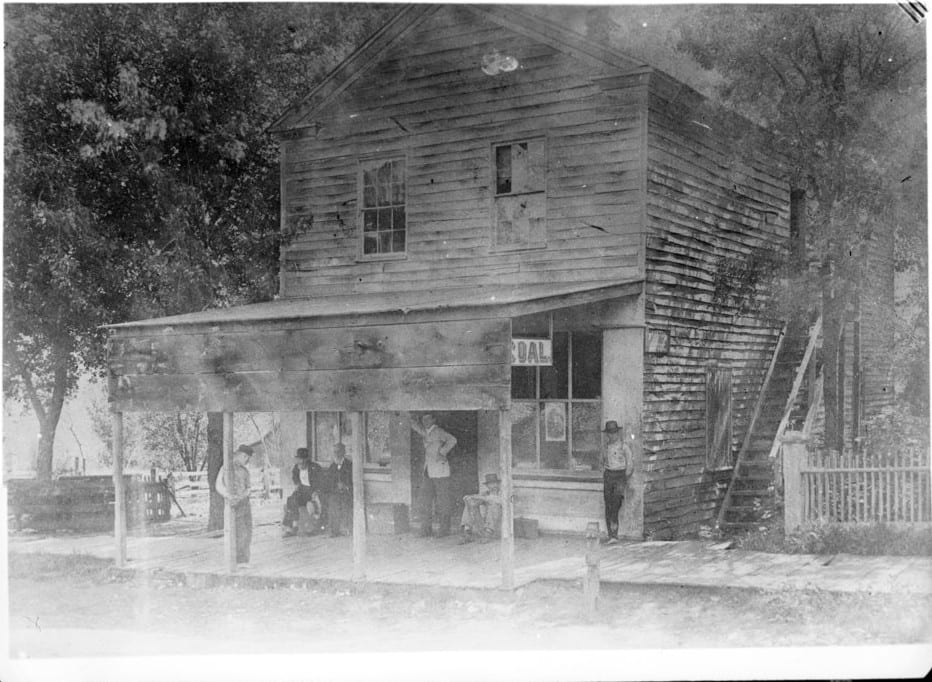 5) Brick Sidewalks (1888)
Original city sidewalks were wood. Note the bricks with the initials G.S.B. & R.T. Co.. Manufactured by Greene, Star, Brick, Rock, and Tile Company.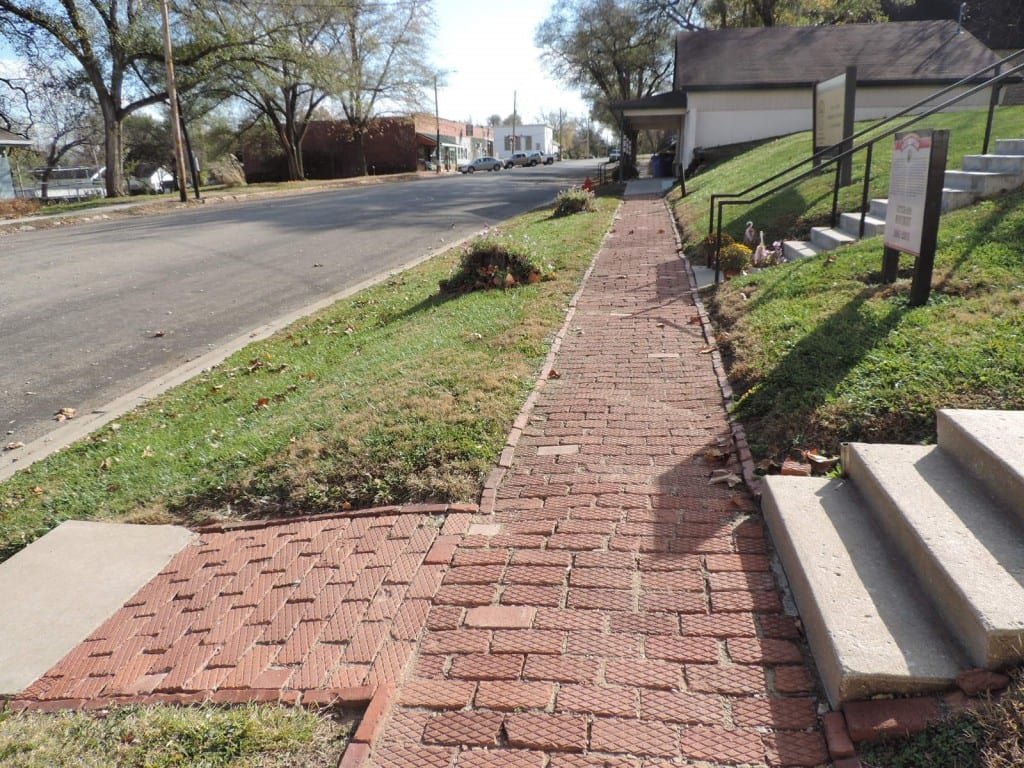 6) Radical United Brethren Church (1906)
Constructed by members of the Lecompton United Brethren Church known as the "Radicals". Members opposed removing a ban against membership in the Odd Fellows, Masons, and similar secret societies and defected from the main United Brethren Church in 1899.  The building made of locally quarried limestone opened in 1906 as a Radical United Brethren Church. It was constructed on the footprint of an older wood church that had burned down.   The church was visited by Bishop Milton Wright, the father of Wilbur and Orville Wright.  He ordained a few Radical United Brethren ministers there after that group split from the United Brethren with which Lane University was associated.  The church members disbanded in the 1920s. The defunct church was purchased by the city in 1932 after their offices in the Council Building were destroyed by fire. The building was placed on the Kansas Register of Historic Places in 2016.  Today it is used as the Lecompton community building.  Contact the city hall for renting this unique building!

4th Graders' Video of Lecompton Radical United Brethren Church
7) Leamer Store
William and Anna May Leamer were merchants from Pennsylvania who opened their first store in Lecompton in 1856 on the corner of Halderman and Woodson and their second store at this location in 1857 on Elmore Street. The store was damaged by the 1916 fire and was razed in 1919. The Leamers were true Lecompton pioneers. They were involved not only in starting a long-h3ved mercantile business, but also in promoting many civic activities including investing in Lane University, Rowena Hotel, the Lecompton & St. Joseph stagecoach line, a pontoon bridge over the Kansas River and various Lecompton churches.
8) 1916 Fire
Destroyed or severely damaged most businesses on the east side of Elmore Street. Only the Thomas Lee Hardware on the south end of the block and a shoe shop and the Council Building to the north survived. Brick buildings were erected in 1918 by the Lecompton Building Association.
4th Graders' Video of Lecompton 1916 Fire
9) Rowena Hotel (Rowena Park)
A three-story, 45 x 90 foot, nineteen-room limestone hotel once stood at this location. Completed in 1858. Financed by Lecompton investors hoping to convince the territorial legislature to keep the capital in Lecompton. Advertised as one of the finest hotels in the territory. Business at the Rowena fell off soon after 1861 when the capital was moved to Topeka. Sold in 1865 to the United Brethren Church as home to newly founded Lane University. Continued as a dormitory until 1902. The H.D. Larimer Hardware and Implement Store from 1902 until 1916. Changed hands many times after 1916. Sadly, by 1947 the Rowena was so badly deteriorated that it had to be knocked down. City of Lecompton purchased the vacant lots where the hotel had once stood and created Rowena Park in 1982.
4th Graders' Video of Lecompton Rowena Hotel
10) Street Signs
Lecompton city streets bear the names of early-day territorial officials and town founders . Woodson Avenue was named for Daniel Woodson, acting governor and town company officer. Elmore Street, known during the territorial period as the "Wall Street of the West," for Judge Rush Elmore, territorial supreme court justice. Halderman Street for John Halderman, town company officer and member of the 1855 territorial council.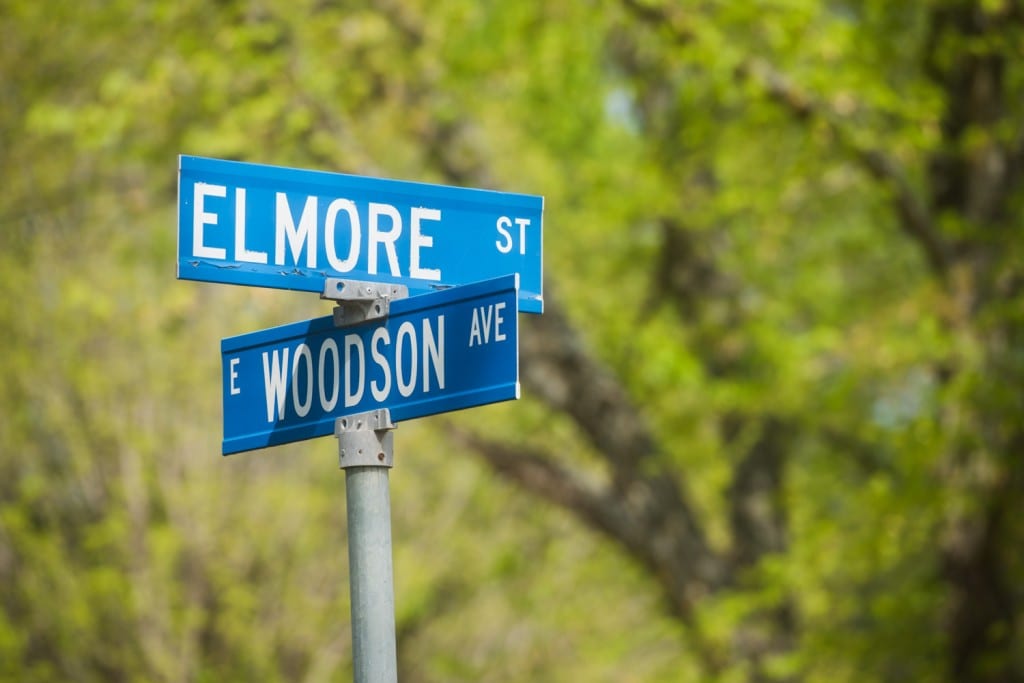 11) A.R. Greene Home (ca.1891)
Former site of Governor Wilson Shannon's 1857 southern-style mansion. Albert Greene purchased the land, tore the mansion down, and built this house around 1891.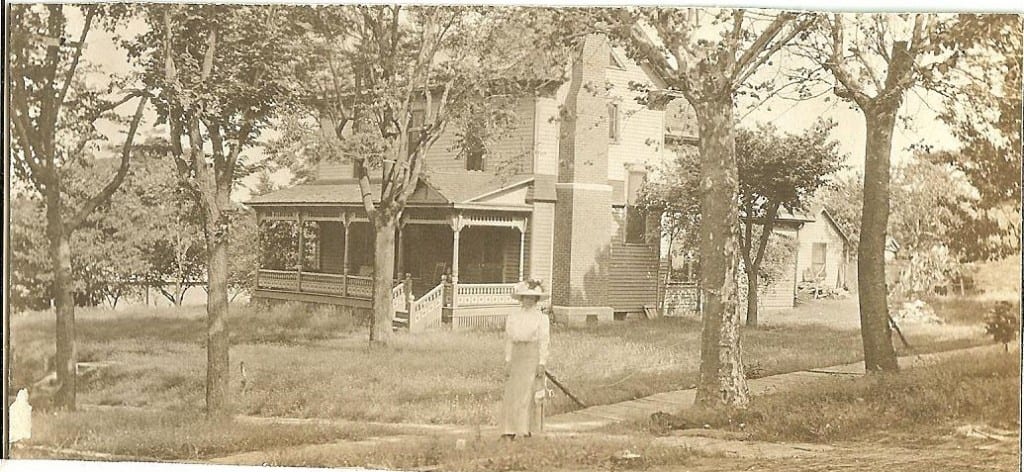 12) Lecompton State Bank (1910)
Former Lecompton State Bank building, completed in 1910.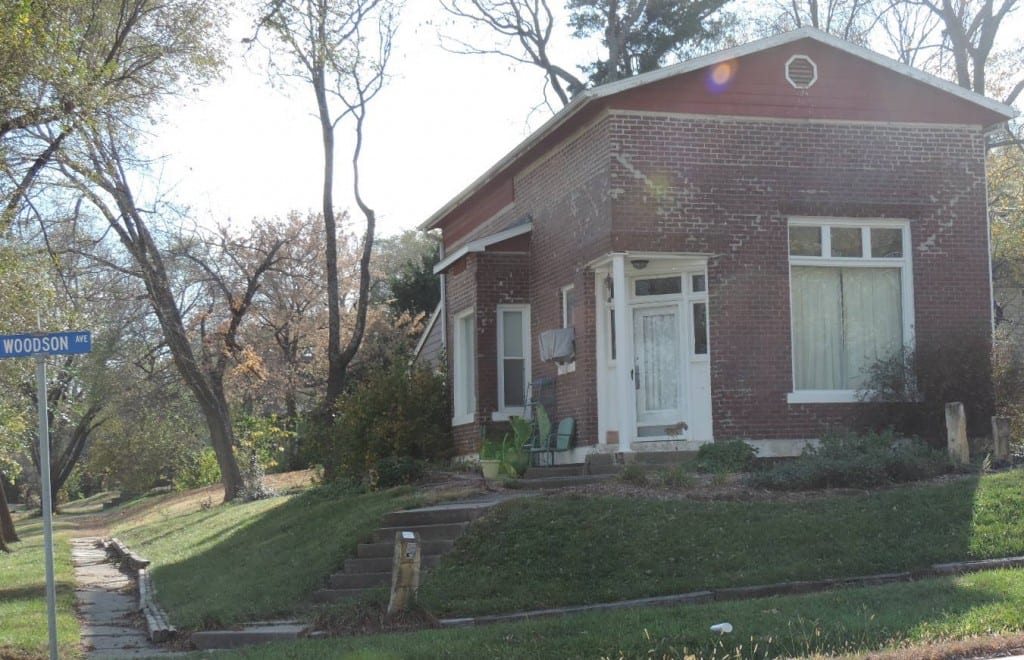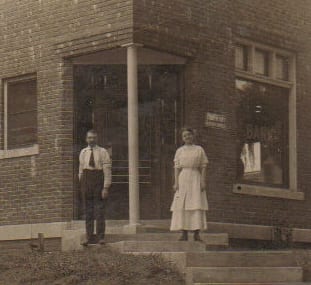 4th Graders' Video of Lecompton State Bank
13) Rowena Hall/Thomas Lee Hardware
Originally the site of Rowena Hall. Built in 1857 by the same group of investors who financed the construction of the Rowena Hotel. Similar in design to Constitution Hall and temporarily used as a legislative hall. Removed to Lawrence in 1863 to replace buildings destroyed by Quantrill's raiders. The same site was used by Thomas Lee Hardware from 1880 to 1940.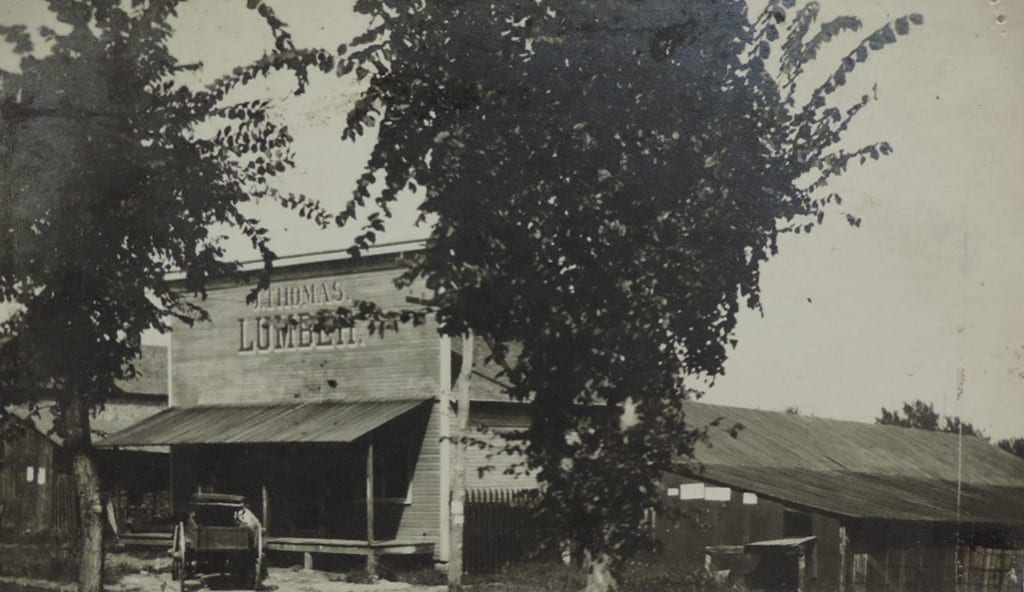 14) Bald Eagle Sign
Lecompton, founded in 1854 on a 640-acre Wyandotte Indian land claim, was originally named Bald Eagle because of the many eagles that nested along the Kansas River. Renamed the same year to Lecompton to honor Judge Samuel D. Lecompte of Maryland, chief justice of the Kansas territorial supreme court and president of the Lecompton Town Company. The territorial legislature chose Lecompton to be the capital of Kansas Territory in August, 1855.

4th Graders' Video on "Bald Eagle"
15) Windsor Hotel (United Methodist Church) (1884)
Originally constructed as a drug store by B.H. Leslie in 1884. Remodeled and renamed the Windsor Hotel in 1903. Purchased and remodeled in 1921 by the United Brethren Church. Dedicated as a church in 1922. Became the Lecompton United Methodist Church in 1968 with the merger of the town's United Brethren and Methodist Churches.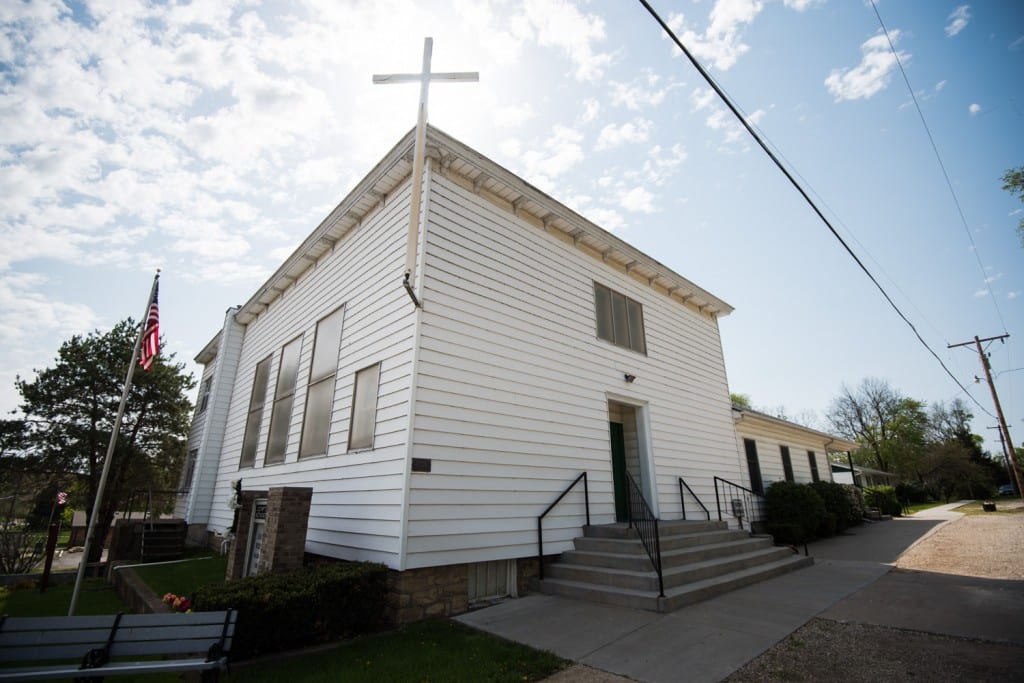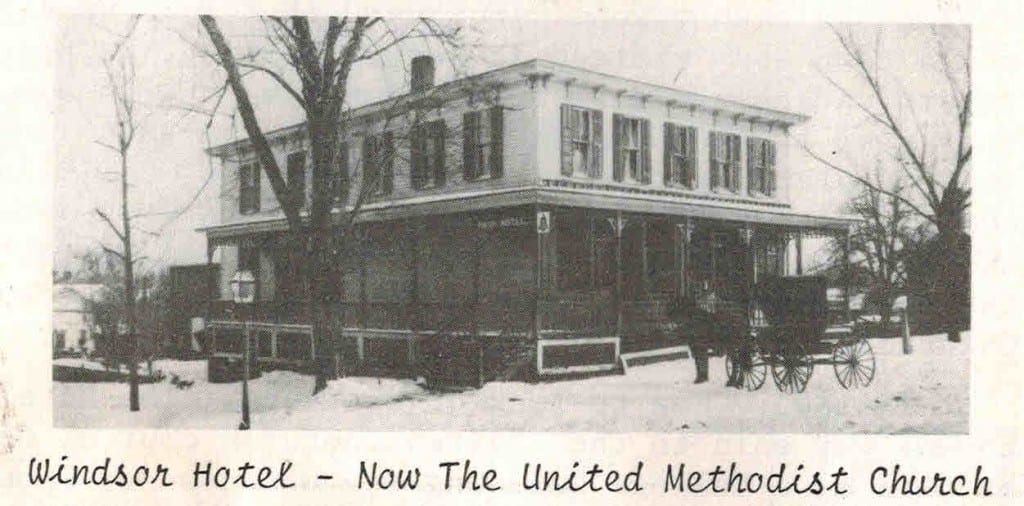 4th Graders' Video on Lecompton Windsor Hotel
16) Post Office Mural (1985)
Ellen Duncan, Lecompton artist- in-residence, created this mural of downtown Lecompton using old photographs taken of the east side of Elmore Street before the disastrous 1916 Fire.
 
4th Graders' Video of Lecompton Post Office
 17) Stone Curbs and Gutters (1888)
To help control runoff from snow and rain, the Lecompton City Council ordered that limestone curbs and gutters be installed in 1888 along Woodson Avenue between Isacks and Boone Streets.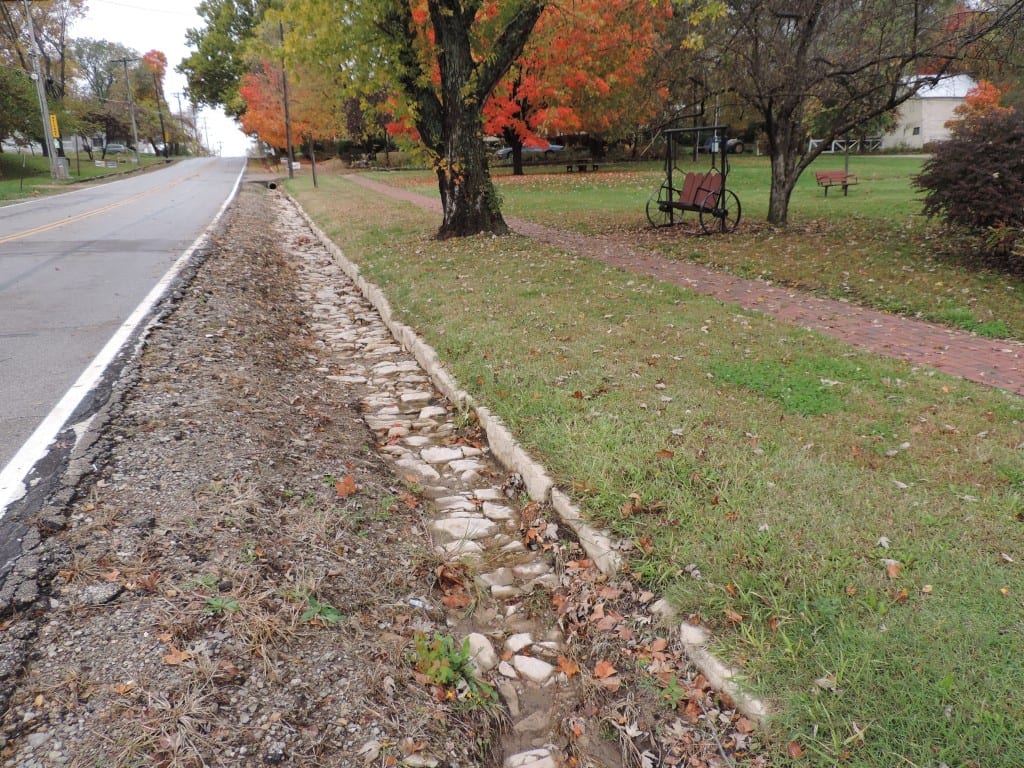 18) Leamer House
Site of William and Anna May Leamer's 1850s and 1896 home.
19) Lecompton High School (1927) & Battle of Fort Titus Reenactment Cabin
Lecompton Rural High School from 1927 to 1970 and owned today by the City of Lecompton. Replaced a burned 1899, two-story, stone high and grade school, located across Woodson Street where the former 1920 brick grade school stands today.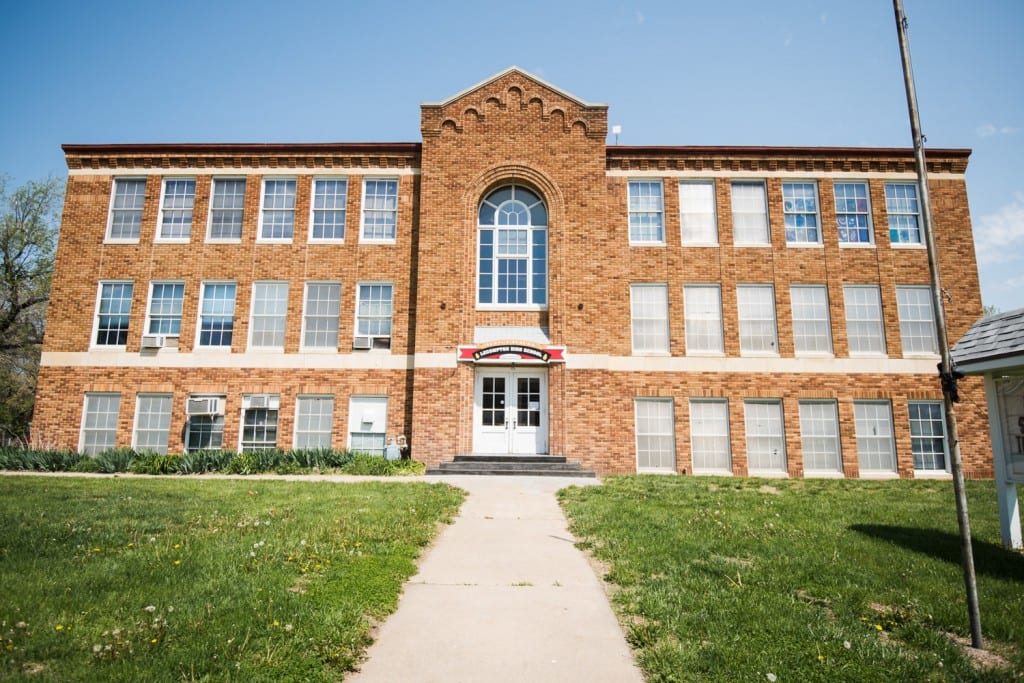 4th Graders' Video on Lecompton High School
Battle of Fort Titus Reenactment Area, just to the east of the High School.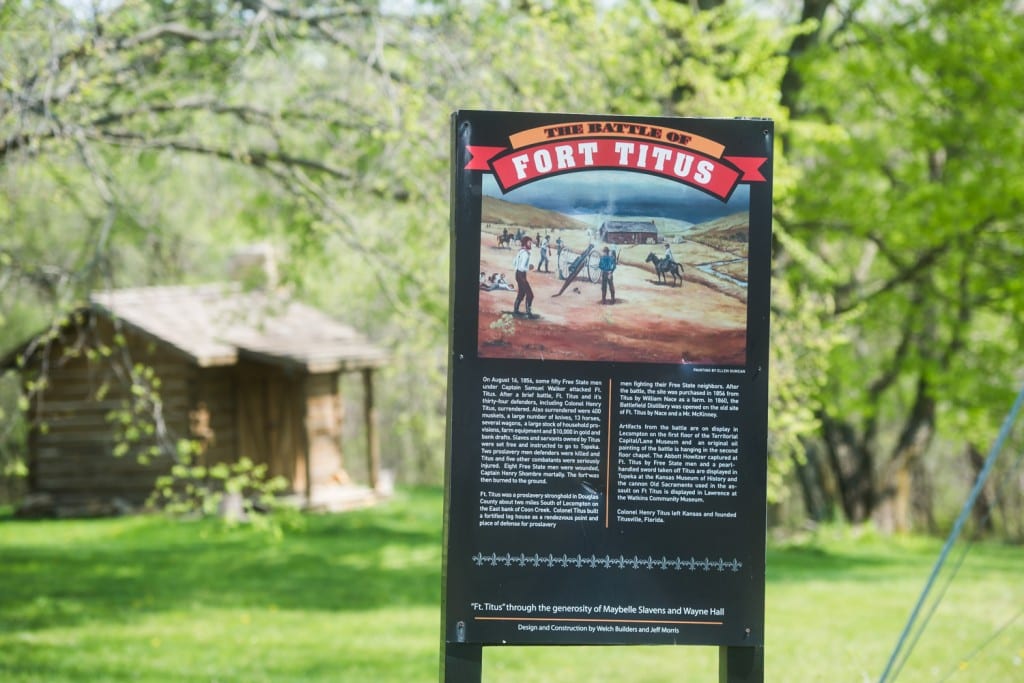 Grounds of the former thirteen-acre Lecompton capital square district. Deeded by Lecompton to the territorial government in 1855. Construction began here on an elegant capitol in 1855 with a $50,000 appropriation from Congress. Only the basement and the stone foundation was completed. Work ceased for good by 1857 when all the money was spent and antislavery legislators gained control. Unfinished capitol deeded by Kansas in 1865 to Lane University. Lane University building constructed in 1882 using capitol ruins. University closed and moved to Holton, Kansas, in 1902. Used as Lecompton High School until 1927 when the brick school was built just to the south. Lecompton Historical Society organized in 1968 to save the abandoned, deteriorated structure. Restored, rehabilitated, and opened to the public as a museum in 1982.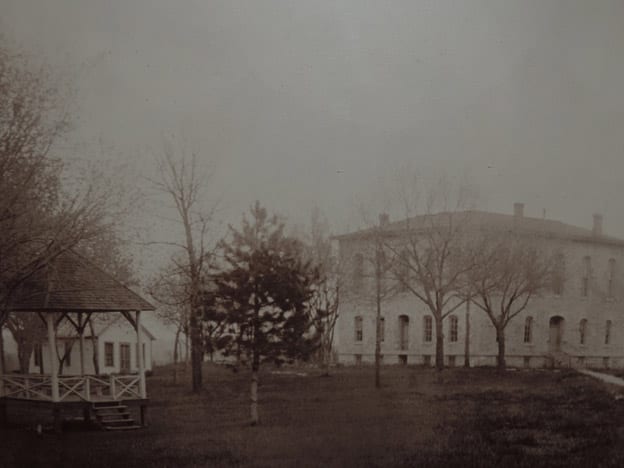 Lane University with gazebo and grounds.
4th Graders' Video on Territorial Capital and Lane University
 21) Capital Hotel
Located on Halderman Street west of the capital square. Room for one hundred guests.
22) National Hotel
Located north of the capital square. One hundred and one antislavery prisoners captured after the Battle of Hickory Point, Jefferson County, in September 1856 were held prisoner here in the lower level.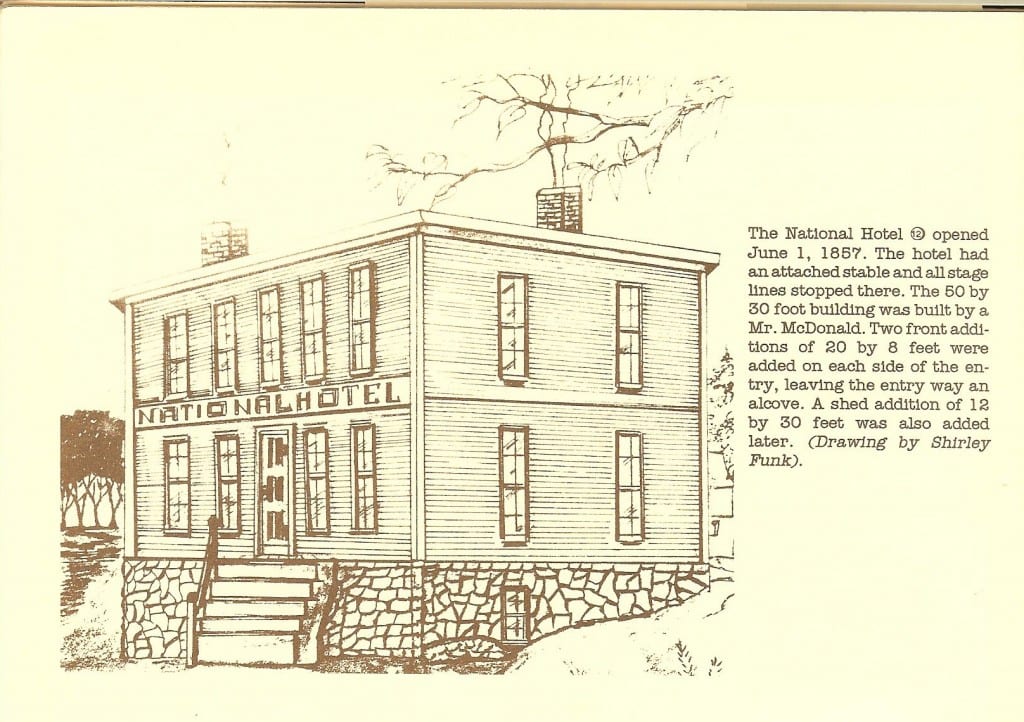 23) American Hotel
Completed in 1857 and located one block from the ferry and depot. Later moved to Lawrence.

24) Lecompton House
Built in 1856 on the southeast corner of Halderman and Second Streets.
25) Surveyor General's Office
John Calhoun, surveyor general of Kansas and Nebraska Territories and Lecompton Constitutional Convention president, opened his office here in June 1856. A prefabricated house brought by wagon to Lecompton. A wooden candle box containing fraudulent ballots for the pro-slavery Lecompton Constitution was found under a woodpile near the office. The box is on display at Constitution Hall.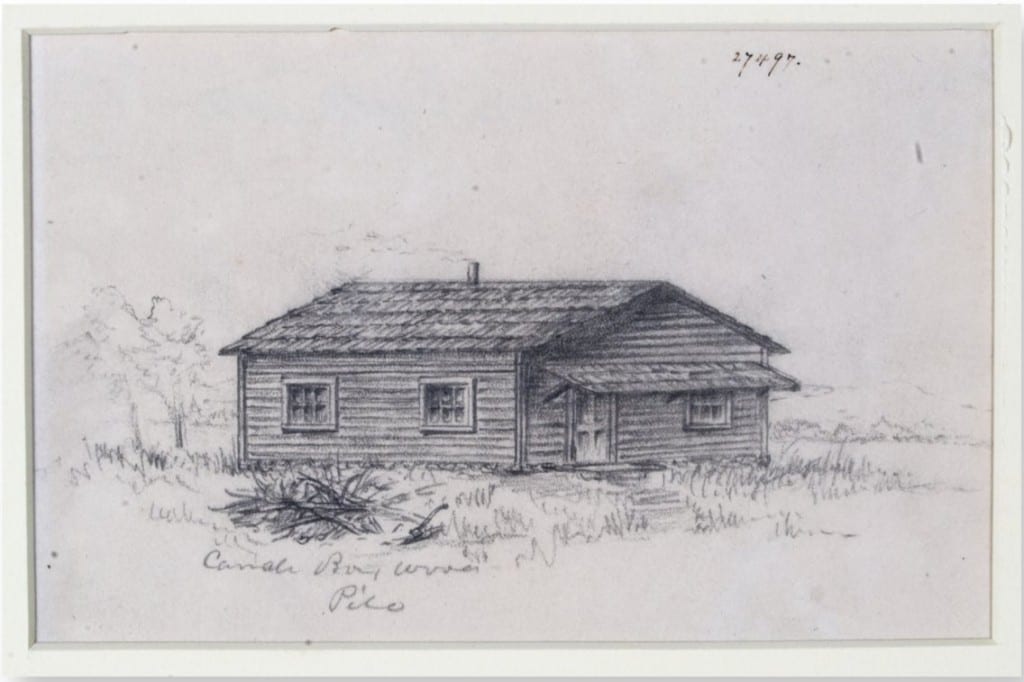 Built by Italian stonemason Mark Migilario, possibly the first dwelling in Lecompton and the residence of William Simmons and his son Thomas who made their living fishing and operating a ferry on the Kansas River. Used later as a railroad pay station and as a private residence. Identified in this 1877 drawing as the "Democratic Headquarters." Stone addition added later to log cabin.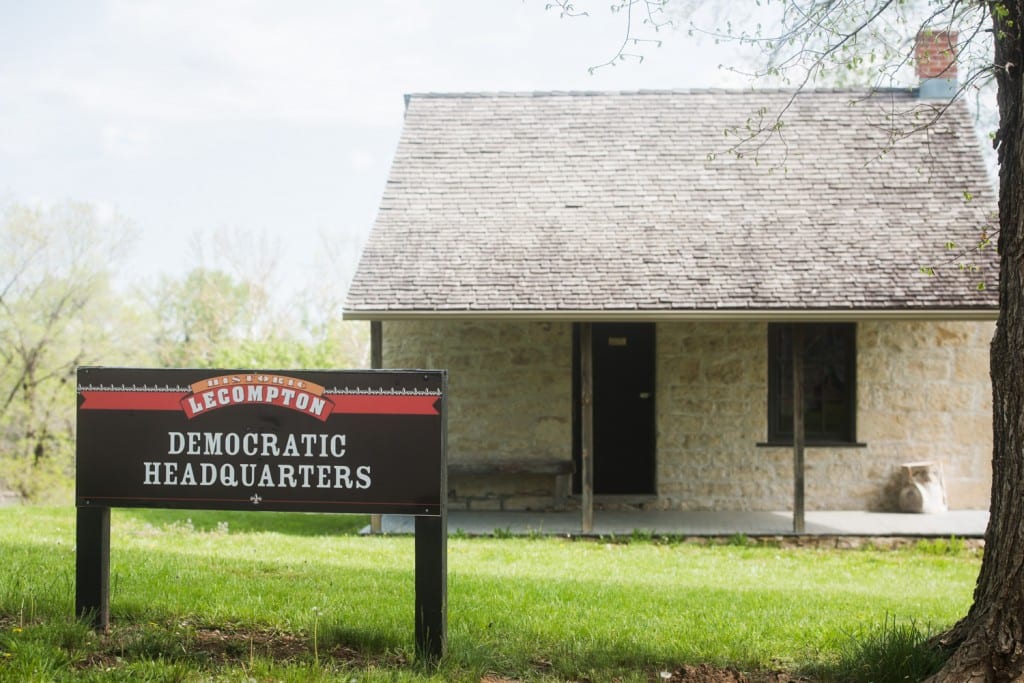 4th Graders' Video on Lecompton's Democratic Headquarters
 27) Governor's Mansion
Site of Sheriff Samuel Jones's six-room log cabin. Used as the governor's mansion by John Geary in 1856. Engraving published by Harper's Weekly in 1857. Appears in the State Capitol murals in Topeka. Mansion window shutter displayed at the Territorial Capital Museum. The Leavenworth Kansas Weekly Herald of June 15, 1855, wrote that "of the many fine sites on the Kansas River, none is more beautifully situated or offers greater inducements to the pioneer than Lecompton…The country around Lecompton is fertile and unsurpassingly lovely, and must eventually become, if we may be allowed to use a trite phrase, the Garden Spot of Kansas."
4th Graders' Video on Lecompton Governor's Mansion
28) Kaw River Ferry, 1867
Ferries ran to Rising Sun and Perry on the Jefferson County side. First settler William Simmons and his son operated a twenty-foot hollowed-out sycamore log named the Fairy Queen here in 1854. Ferries were replaced by a bridge in 1899.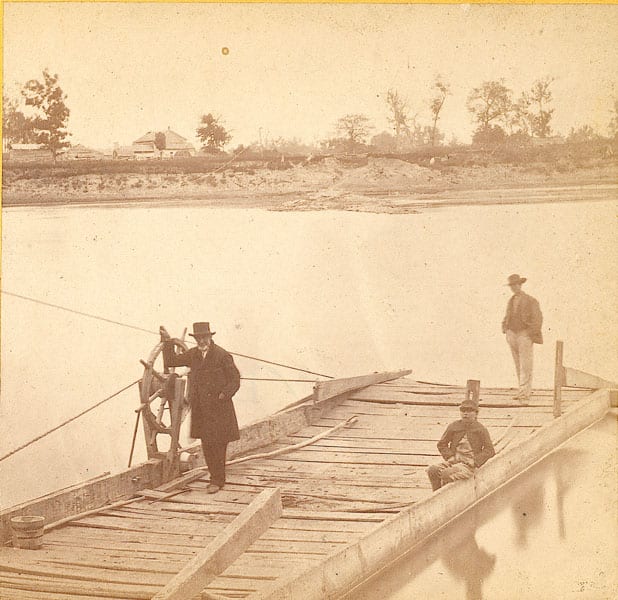 4th Graders' Video on Lecompton's Ferry Boat
29) Rising Sun
Founded in 1857 directly across the river from Lecompton. First settler James Skaggs and his slaves supplied Lecompton with lumber. The town gained a reputation in the territory as a center of saloons, gambling halls, brothels, killings, and horse thieves. Crime and vice attributed to Lecompton actually occurred in Rising Sun.  Dwindled and died with construction of Kansas Pacific Railway two miles north at Perry. No visible signs remain today.   Buildings pictured in the background of the above photograph are of the town of Rising Sun.
30) 1899 Bridge
Location of the first permanent bridge at Lecompton. A 1,000 foot long, five-span steel, wood deck, one lane bridge. Completed in 1899. Condemned in 1965 and razed in 1969. Note the stone and concrete remnants. Modern 1640 foot steel and concrete bridge completed in 1970 several hundred yards downstream.  Featured in the 1962, B-movie, horror film Carnival of Souls:  https://www.youtube.com/watch?v=y8axb9AoO0U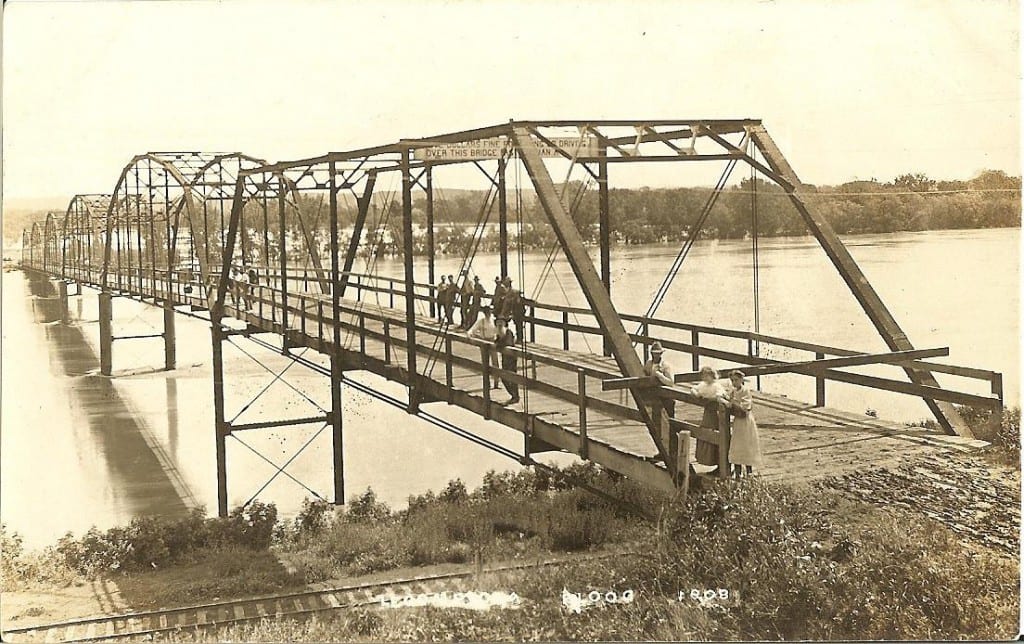 4th Graders' Video on Lecompton's 1899 Bridge
31) Steamboat Landing
Many steamboats attempted to ply the Kansas River, but few successfully transported supplies and travelers to the interior territorial river towns of Lawrence, Lecompton, Topeka, Pawnee, and Fort Riley. Most boats spent the majority of their time grounded on sandbars waiting for the river to rise. The steamboat experiment on the Kansas River ended with the construction of railroad bridges over the river in the 1860s. The Lecompton levee was one hundred to two hundred feet wide and a mile long. By the early 1870s it was abandoned to make way for the construction of the Atchison, Topeka, and Santa Fe Railroad right-of-way.
32) Railroad Depot
Atchison, Topeka, and Santa Fe Railroad laid track to Lecompton in 1872. First depot located at the east end of Second Street. Second depot located west of bridge built in 1902 and razed in 1961.

33) Virginia Hotel
Opened in 1859 and located across Second Street from the American Hotel. Removed to Lawrence.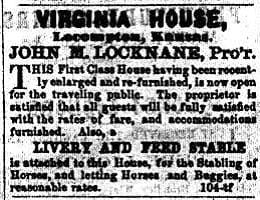 34) Presbyterian Church
One of the first of four churches established in Lecompton. Congregation organized and built a wood-frame church with a prominent steeple in 1857. Disbanded in 1872. Used as a school house, boardinghouse, and private residence by 1881. Burned in 1920s.