Join us during Territorial Days at Lecompton!
The annual Lecompton Territorial Days will be June 16th and 17th, when we celebrate the rich national history of this very historic community.  Lecompton was the official territorial capital from 1855 to 1861.  The events that occurred in Constitution Hall sparked a National debate over the Lecompton Constitution in the halls of congress and in the office of the President of the United States.  This year, 2017, is the 160th Anniversary of the writing and signing of the Lecompton Constitution.
Territorial Capital Museum and Constitution Hall will have several special events on Sat., June 17th

MUSEUM MAIN EVENTS:
9am-5pm:  "Lecompton and World War One" exhibit will debut at 9am on June 17th.  The exhibit will be up until October 14th.  More than 200 people from Lecompton, Big Springs, Stull, and Kanwaka served in the Great War.   Other exhibits on Lecompton's Territorial history and the history of Lane University.  The Territorial Capital Museum is at 640 E. Woodson, near the ballfield by the old Lecompton High School.  Donation.
9am-5pm: Constitution Hall will be open.  Come see this historic building and learn why the Lecompton Constitution is so important to U.S. history.  At 319 Elmore Street.  Fee.
9am-Noon: 18th Century Encampment Pioneer Skill Demonstrators.  Outside of Constitution Hall on Elmore Street.  No Fee.
10am:  Memorial service at the Veterans Monument on Elmore Street.  We will read the names of the World War One participants and honor the families of those who served from Lecompton, Kanwaka, Stull, and Big Springs.  No Fee.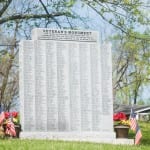 1pm: "Ride with the Devil: Hollywood and the Border Wars."  Dr. Carl Graves will show segments of this popular movie about Quantrill's Raid in Lawrence.  He will discuss how accurate the Hollywood version is compared to the historic accounts.  In the air-conditioned chapel of the Territorial Capital Museum.  Donation.
2pm: "Lee and Grant at Appomattox" reenactment by historical performers Randy Durbin as General Grant and Lane Smith as General Lee.  Excellent performance of the historical meeting between these two Civil War generals at the end of the war.  In the air-conditioned chapel of the Territorial Capital Museum.  Donation.
3:30pm: "Glory Hallelujah—Remembering the Civil War in Song!"—piano recital on 1885 Grand Chickering Piano by Tenor Anthony Rohr and Pianist Rachel Wilder.  At the Lecompton United Methodist Church.  No fee.
Territorial Days' events begin Friday night, the 16th, with a carnival and continue on Saturday with a parade and many other exciting activities.

For more information on the schedule during Territorial Days