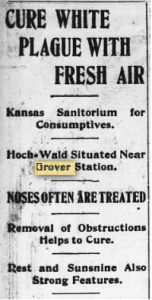 "Are you certain that you have a good nose? Possibly you think you have. But doctors have come to say that only about 5 per cent of the noses of humankind are normal. And in the 95 per cent of abnormal noses lies to a great extent the liability of their owners becoming afflicted with tuberculosis." Topeka Daily Capital, July 19, 1908.
Tuberculosis, or TB, is an infectious disease that mainly affects the lungs. Most people do not show symptoms but about 10% of latent infections progress to active disease and, if left untreated, kills about half of those infected. Symptoms of active TB are chronic cough, blood in mucus, fever, night sweats, and weight loss. The historic term for TB, consumption, came about because of the weight loss. TB was not recognized as a disease until the 1820s and not named until 1839. In hopes of combating the deadly disease, Dr. John Croghan, who had bought Mammoth Caves in Kentucky, ran a tuberculosis hospital inside the cave believing the cool air would cure his patients. They all died within a year and Dr. Croghan would also be claimed by tuberculosis.
The Hoch-Wald Ranch sanatorium opened March 26, 1908 at Grover Station, and had a capacity for 10 people. According to the above mentioned Topeka Daily Capital, most of what went on at Hoch-Wald was the removing of obstructions from the nose using steel snares. Hoch-Wald was considered a better place for sufferers of tuberculosis because of the lower altitude than in Colorado or New Mexico. Patients at higher altitudes never adapted back to the lower altitudes while at Hoch-Wald, which was situated on a bluff overlooking the Kansas River along the Santa Fe railroad tracks. The ranch consisted of ten white canvas tents but did have short wooden walls and wood floor boards to keep patients away from the mud.
The Hoch-Wald Ranch, translated from German as "high forest", was started by Dr. Thomas Brunk of Topeka who bought ten acres of land from Robert Skaggs. Immediately, Dr. Brunk sent men to begin clearing the land and hoped that permanent cottages and an administration building could soon be built on the site. He also worked on getting the name Grover Station changed to Hoch-Wald Ranch. Brunk's idea thought that getting people to clean, fresh air away from the cities and allowing air to flow into the lungs freely and keeping the nose free from obstructions would cure tuberculosis. His treatment also emphasized exercise and a diet of milk, eggs, meat, bread, and wine.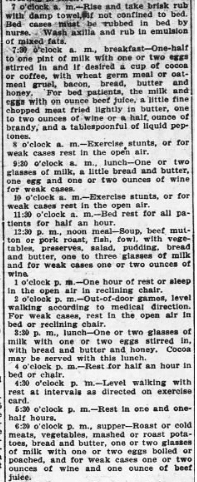 For ten dollars—which included room, board, food, exercises, massage, on-site doctors and nurses—tuberculosis sufferers could rent a tent at Hoch-Wald amid the "natural quiet and general restfulness of" the bluffs at Grover Station. Brunk said that, if caught soon enough, a cure for tuberculosis would be found at his ranch. A true cure for tuberculosis would be introduced in 1921. Hoch-Wald was located on the hill near present-day North 2190 and East 225 Roads. The hill is still one of the most beautiful locations in Douglas County.
Dr. Thomas L. Brunk was a 1886 graduate of Cornell University. He taught high school classes in Chicago before coming to Topeka and opening a practice on Kansas Avenue. It appears that the tuberculosis resort in Grover only lasted a couple of years before Dr. Brunk abandoned the idea. Dr. Brunk would then move to Kansas City. He died in 1935 and is buried in Tampa, Florida.
The town of Grover, which was about a quarter mile west of the ranch and the depot, was a newcomer to Douglas County, being founded in 1886 by Alden Spears of the Arkansas Valley Town and Land Company. There were twelve blocks to the town. East-to-west streets were Chase, Meade, Hinkley, and Douglass Avenues. North-to-south streets were Christian and Main Streets.
======
By Brian Hall.  Brian has a summer interpreter position with the Lecompton Historical Society, funded by the Douglas County Heritage Office and by Freedom's Frontier National Heritage Area. Brian Hall has lived in Lawrence, Baldwin City, and now Topeka. He works for Topeka Public Schools and is a writer and amateur historian.